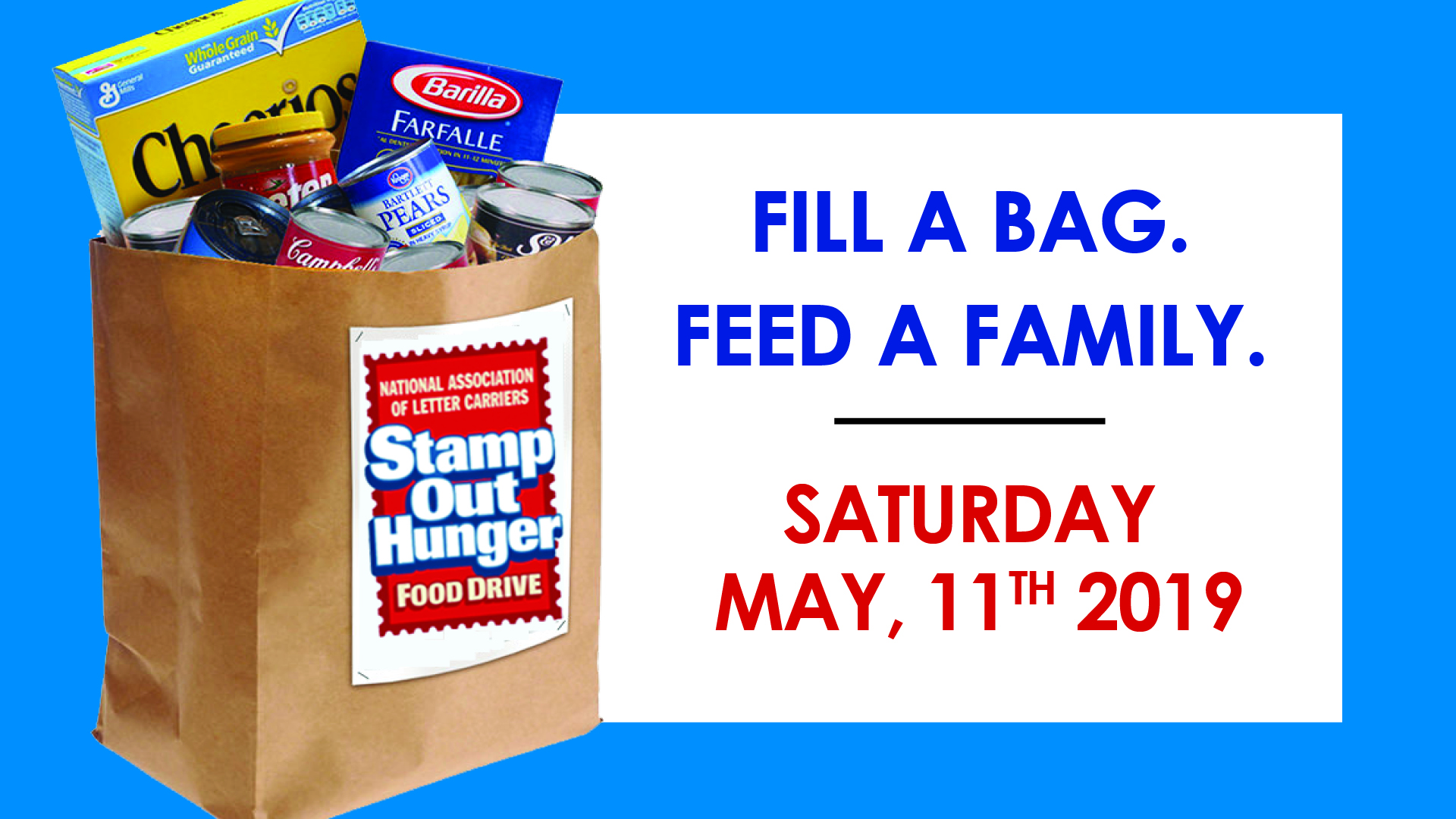 Letter Carrier's Food Drive
You can participate in one of America's greatest days of giving – the National Association of Letter Carriers Stamp Out Hunger Food Drive. It's simple! Just leave a donation of non-perishable food by your mail box on Saturday, May 11 and your letter carrier will take it directly to Marion Polk Food Share to feed people in need.
Most "Wanted" Foods Include:
Canned meat and fish
Peanut butter
Shelf-stable milk
Whole-grain cereal
Dried or canned fruit
We Need Volunteers, Too!
Interested in getting more involved? The postal workers and our Food Share drivers need your help to transfer and load the food into our trucks. Bring your lawn chairs and coolers and have a great time helping your community! There are morning and afternoon shifts available at 3 different post offices in and around Salem.
To find out more and sign up for a shift, contact Volunteer Coordinator Amy Hammerstrom at
___________________________________________________________________________________________________________
The Stamp Out Hunger Food Drive was created in 1993 by the National Association of Letter Carriers to in an effort to stock the shelves of food banks nationwide. Along with the National Rural Letter Carriers Association, the National Association of Letter Carriers has collected more than one billion pounds of food nationally since the drive's inception.
Frequently Asked Questions:
What bags can I use? Even plastic? While participating local letter carriers are delivering special event bags, if you did not receive one, would like to fill more than one, or would like to get a head start, any bag will do! Paper or plastic, mesh or fabric, any bag filled with the TOP 5 Foods for a neighbor in need is appreciated.
Where does my food go? Once collected by your friendly local postal carrier or volunteer assistant, most bags will be collected and sorted at the main Marion Polk Food Share warehouse at 1660 Salem Industrial Drive NE. If you're interested in helping this process, head to marionpolkfoodshare.org/volunteer/ and sign up!
Shortly after quality is ensured and the product is sorted, it will be on its way to to the tables of some 46,000 neighbors a month, 15,000 of whom are children. This process is made possible by the 127 partner agencies (food pantries, soup kitchens, etc) we entrust to directly provide for the families that come to them in their time of need. If you or someone you know might benefit from foods offered through this network, find the closest partner here: marionpolkfoodshare.org/get-help/

What if I missed the Postal Carrier? If you slept through the big day, or for some reason a donation was missed, have no fear. Your valued donations can be delivered during business hours to:
1. Marion Polk Food Share, 1660 Salem Industrial Dr. NE
2. Marion Polk Food Share Partner Agency locations. Locations and varied business hours can be found at: marionpolkfoodshare.org/get-help/
3. Participating Post Offices. Find your nearest, and ensure they're participating at: https://tools.usps.com/go/POLocatorAction!input.action
Alternatively, skip the drive and head to marionpolkfoodshare.org/ways-to-give/give-now-2/ to make a financial contribution in this drive's honor.
While school is out, the first $75,000 will be matched, meaning every $1 you donate will provide 6 meals to children facing hunger.
Share This Story, Choose Your Platform!