UPDATED FEB. 22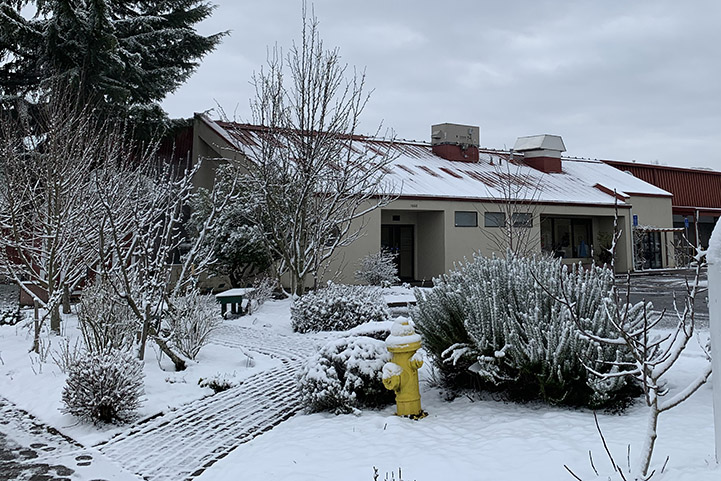 Marion Polk Food Share is open and most services have return to normal, but some programs and operations are still being impacted by power outages and storm damage. Please see below for a list of program changes, and check back for up-to-date information.
Food Share office and warehouse
The Food Share's office and warehouse in Northeast Salem is open.
Food pantries and meal sites
Some food pantries and meal sites may be closed. We suggest calling before you visit to confirm hours and services.
The following pantries are closed until further notice:
Mama's Community Market, Aumsville
Turner Christian Church Food Bank
Woodburn Spanish Seventh Day Adventist Food Pantry
Farmers to Families Food Box distributions
All Farmers to Families Food Box distributions are taking place as scheduled.
Meals on Wheels home delivery
Home meal delivery has resumed as normal.
Center 50+ and South Salem Senior Center lunches
Meal pick-up is available during normal hours at Center 50+ and South Salem Senior Center.
Volunteers
The Volunteer Action Center is open for scheduled shifts.
AWARE Food Bank
AWARE Food Bank has resumed normal operating hours.
Iskam MǝkʰMǝk-Haws
The Iskam MǝkʰMǝk-Haws pantry will be open on Friday, Feb. 19, from 10 a.m. – 2 p.m.
Partner agency deliveries/pick-up
Deliveries are going out as scheduled for agencies that are open, and regular pick-ups from grocery partners have resumed. If you are an agency and have questions about delivery or pick-up, please contact Tom Oblack, Warehouse Manager, at 503-576-3431.
Youth Farm
The Youth Farm has resumed normal operating hours.
Other Resources
For a list of other food resources and more information about warming shelters, firewood pick-up and storm debris drop-off locations, visit http://www.co.marion.or.us/alerts or call 503-588-5108.
If you're a SNAP recipient and have lost food as a result of the ice storm, you may be eligible to get some SNAP dollars added back to your Oregon EBT card. You must submit a form within 10 days of the loss. Click here for more details.