Featured Partner – Trader Joe's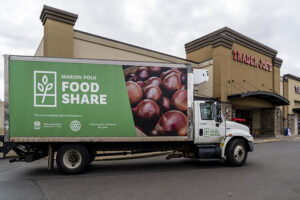 Trader Joe's proudly supports Marion Polk Food Share's mission of bringing people together to end hunger and its root causes. By partnering with the Food Share to donate unsold items nearing their peak freshness, Trader Joe's is providing our neighbors in need with an abundance of high-quality perishable foods to supplement the shelf-stable offerings at our network of pantries.
Thanks to Trader Joe's generous donations, hungry people throughout our community have access to fresh produce, dairy, eggs, bread, meat, and other highly nutritious foods that allow them to live full, healthy lives.