Meals on Wheels provides a much-needed helping hand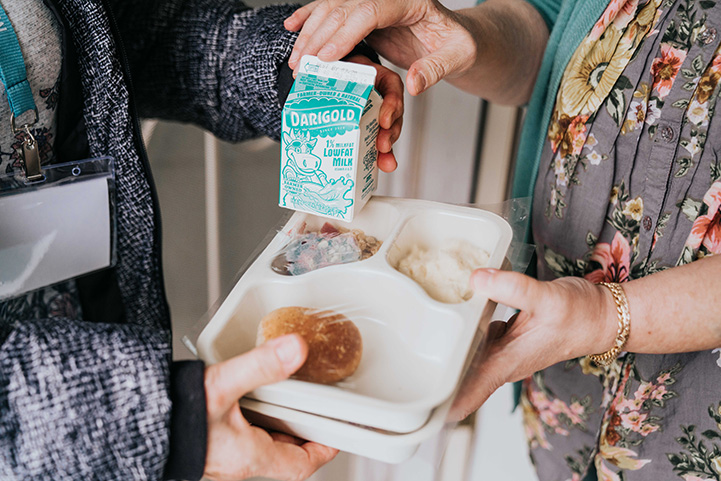 Thanks to your generosity, Marion Polk Food Share's Meals on Wheels program continues to serve our most vulnerable neighbors with more than meals.
Karen is a former Meals on Wheels client who is grateful for the care and compassion she received from the program. After undergoing two consecutive surgeries, Karen was homebound with limited mobility. She was also new to the Salem/Keizer area and didn't have family nearby to check in on her, so the assistance she received from Meals on Wheels was crucial to her recovery. Because of your support, Karen received nutritious meals delivered to her door for over a year.
"I don't think that homebound seniors are someone that everybody thinks of. We tend to be a rather silent, non-vocal group because we don't want anybody to know that we're in trouble or don't have enough food," Karen says. "I don't see anyone else who is really focused on making sure that local senior citizens are getting fed other than Meals on Wheels."
Before Meals on Wheels, she relied on fast food and did not cook at home.
"Like many Americans, I got into the habit of eating fast food for convenience…but getting the hang of eating at home and using real ingredients instead of just microwaving something got me back on track to eating stuff I grew up on. That has been a very positive impact, and I've lost some weight because I don't eat out as much," says Karen.
A unique aspect of Meals on Wheels is the connection volunteer drivers have with the clients. Many volunteers have been driving for several years and have developed genuine friendships with the clients they serve.
Karen is grateful for the drivers that not only provided meals, but checked in on her every day to make sure she was doing well.
"Charles and Jessie didn't just deliver food and drop it off. They would knock on the door, wait for me to answer, and make sure I could get up and answer," she says. "Having someone come by every day to ensure I was ok at that moment was very important to me."
Meals on Wheels would like to thank Community Development Block Grant funding from the City of Salem, Kaiser Permanente, Meals on Wheels America, and community members like you. Your support is providing nutritious meals, care, and friendship for local homebound seniors.