Expanded fleet delivers more food into the community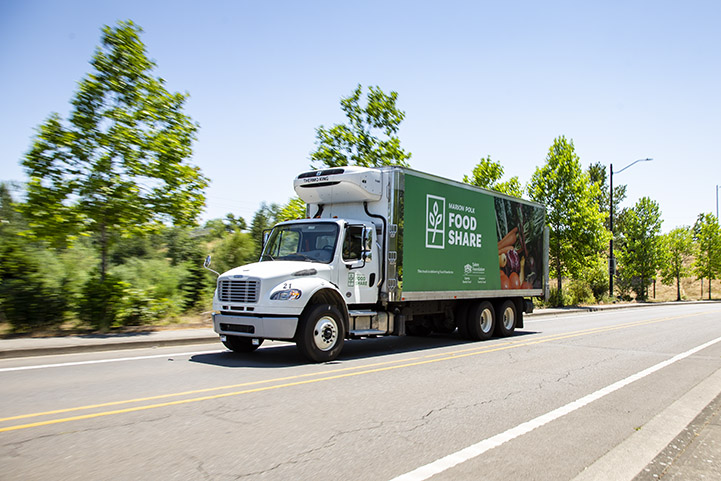 Last year, the widespread unemployment and loss of wages brought by the COVID-19 pandemic resulted in unprecedented demand for emergency food assistance in Marion and Polk counties.  
While our partner agencies were serving more people than ever, the Food Share had to alter our service model and the way we distribute food to ensure the safety of pantry guests, volunteers and staff. 
With restricted ability for our network of pantries to come "shop" for their food in our warehouse, we instead focused more on getting food to them. Doing so required the Food Share to expand our fleet of delivery vehicles, not only to increase our capacity to deliver fresh food to our partner agencies, but also to pick up donations from corporate and community partners and conduct mobile food distributions.  
The support of our generous community enabled the Food Share to purchase four vehicles that bolstered our capacity to get food to our partners and out into the community. Those vehicles included two new refrigerated trucks, a refrigerated van for mobile food distributions and another van dedicated to supporting community food drives. 
According to Kendra Alexander, the Food Share's Director of Operations, the new trucks and vans have been crucial to getting food out into the community at such a crucial time. 
"They allow us to have a higher level of service to our partner agencies, to deliver more food and turn it around more quickly," she says. "Because we're not waiting for people to come to us, we're taking the food to our partners at the time of their distribution and we're taking it more often, so we're actually moving more food out the door." 
Thanks to the generosity of Bonaventure Senior Living, Feeding America, Mountain West Investment Corporation, Oregon Health Authority, The Salem Foundation, and community members like you, Marion Polk Food Share and our network of partners were able to distribute food into the community at a time when it was needed most.