Pantry fills need for fresh food in Grand Ronde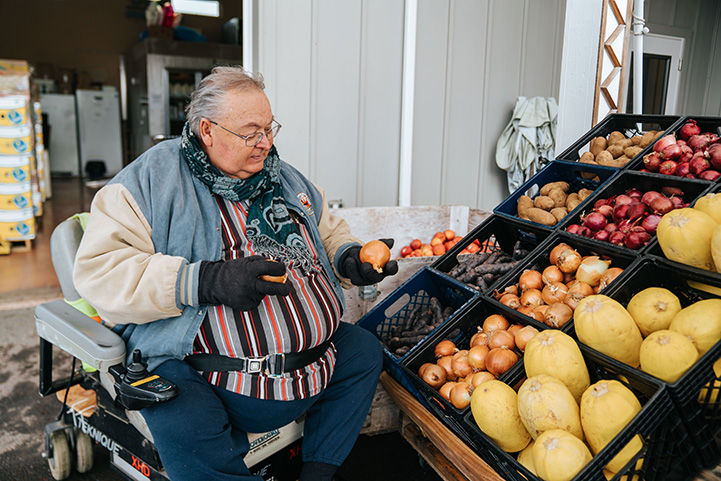 Experiencing food insecurity means that a person has difficulty consistently accessing enough food to live a healthy, active life. There are many causes, including poverty, lack of affordable healthcare and housing, medical issues and systemic oppression.
For people living in rural areas, those problems are compounded by transportation difficulties, geographic isolation and limited availability of nutritious food at local stores.
In Grand Ronde and surrounding communities, a lack of local grocery stores means residents don't have convenient access to high-quality fresh food. Acquiring fresh food may mean a long drive to Sheridan, Lincoln City or Dallas, which is time-consuming and expensive even for those with transportation. For people with mobility issues or those lacking reliable transportation, obtaining affordable fresh food is an even greater challenge.
That's why Iskam MәkhMәk-Haws (Chinuk Wawa for house where you get food) is working to increase access to fresh foods for their clients in the Grand Ronde area. The pantry, which is operated in partnership between Marion Polk Food Share and the Confederated Tribes of Grand Ronde, draws guests from a wide geographic region that includes portions of rural Polk, Lincoln, and Tillamook and Yamhill counties.
In addition to holding regular food distributions from its pantry, Iskam conducts mobile food distributions to bring food to people in tribal housing complexes and RV parks. Iskam also helps distribute Farm Share Rx boxes – fresh produce grown on the Food Share Youth Farm and prescribed to clients of local health clinics – to help improve the diets of people who have difficulty accessing fresh food.
According to Francene, Iskam's Pantry Manager, one tribal elder who stopped cooking for her husband nearly a decade ago was inspired to begin preparing meals again when the couple were prescribed a Farm Share Rx box. Now, the couple is cooking together, eating together and cleaning together, Francene says. Since they don't have the energy to drive into town to shop, receiving fresh food from the Farm Share Rx program is making a big difference in their lives.
The pantry also offers garden-in-a-bucket kits each year to provide a low-barrier way for people to grow their own fresh produce without becoming overwhelmed or intimidated by the process.
"The goal is to show them to not be afraid of growing things, that you don't need a ton of space and it doesn't have to look like a Better Homes and Gardens garden to get what you need out of it," says Francene. "It's all about empowering people to not be scared to grow their own food."
Thanks to the generous support of Feeding America, Oregon Community Recovery Fund of The Oregon Community Foundation, Oregon Health Authority, Yamhill Community Care Organization and community members like you, neighbors in Grand Ronde can rely on Iskam MәkhMәk-Haws to not only provide nutritious, healthy meals, but to get them to areas where they're needed most.