Growing and learning continue at the Youth Farm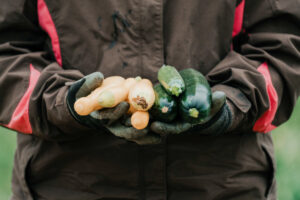 Marion Polk Food Share brings together a group of young people at our 6-acre urban Youth Farm for a summer-long program every year. Funded, in part, by a generous donation from Capitol Auto Group, the experience is an opportunity for a new generation of leaders to learn about farming, community, and teamwork.
The program this summer looks a little different due to COVID-19. The Youth Farm staff worked to create a safe environment with the same goal and objectives as years past. They welcomed 19 youth farmers, divided into two cohorts for added precaution. New health and safety measures were implemented for the team and food recipients.
In his fourth year on the farm, crew leader Elvis is happy to be back this summer.
"I love that you can always learn something new, whether it's something about plants or something about tools or leading people. Collaborating with other people that also know about the farming business."
As a crew leader, Elvis assists the Youth Farm staff by supervising his peers. The emphasis on leadership development is a cornerstone of the Youth Farm program. Real life lessons are integrated into the workshops and team-led training opportunities. "I know that it's not easy to lead other people," says Elvis. "You have to communicate clearly, and I'm always learning how to do it better."
A standard day focuses on farming and hands on experience, as well as education. In the morning, team members take turns developing a recipe and preparing a snack using food grown locally or on the farm. The youth farmers then lead virtual educational workshops in the afternoon. They each present content on a variety of topics such as food, farming, and personal development.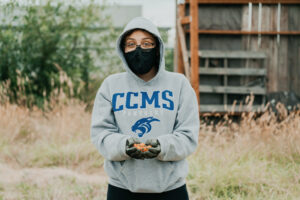 Like Elvis, newcomer Rayla appreciates the many opportunities to learn.
"I've learned many things: how to plant, how to prune tomatoes, or cook something with organic food." But to her, it's more than that: "You connect with people. You're not only working on a farm to get the crops growing. You're communicating with people to make connections and form bonds. You are able to have fun and do something good over the summer."
The youth farmers harvest a wide variety of fruits and vegetables throughout the summer.  They are able to enjoy the fruits of their labor by taking home boxes of produce each week.  They also share with the community through a program called Farm Share Rx. This year the farm will provide 85 produce boxes to health clinics serving populations in need each week.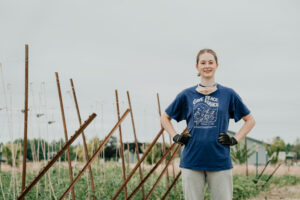 First time farmer Elsie knows helping her neighbors is more important than ever. The benefit doesn't stop there.
"It's awesome that [we are helping] people, especially during this time when there's increased food insecurity and people are losing their jobs. You help people here through the farm, then you go home and you can use the knowledge in your own garden."
Thanks to the support of Capitol Auto Group, Elvis, Rayla, Elsie and their fellow farmers will enjoy a summer of learning and leadership growth. The positive impact on the community and their own lives will continue long after the summer comes to an end.