"They Just Embraced Us"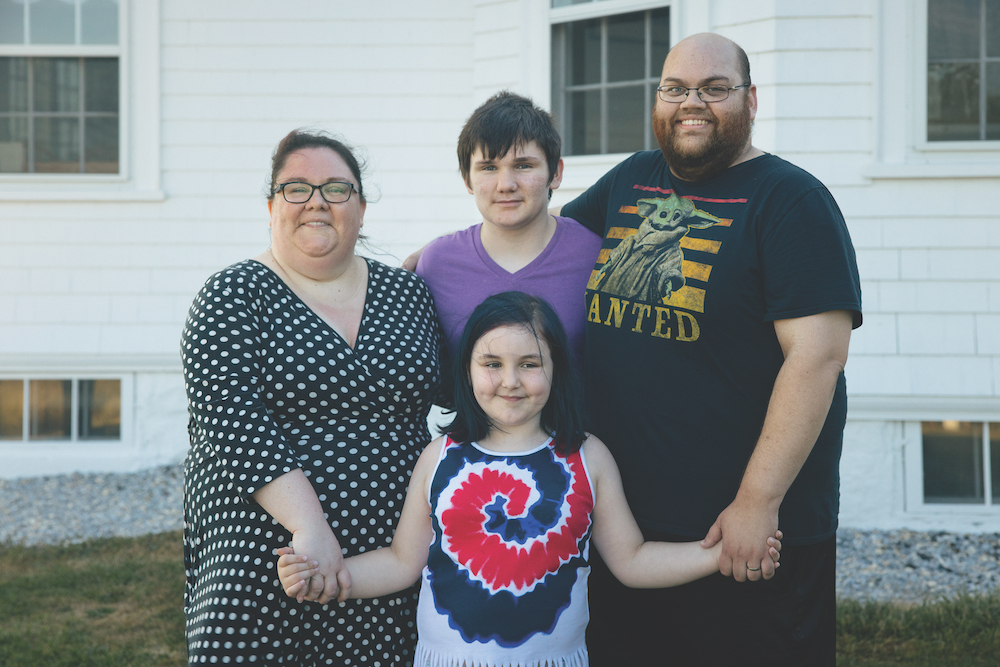 Photo is representative of families like Mychal's, who is so grateful for the help they receive.
—
For more than 40 years, the Ella Curran Food Bank has stood as a beacon of hope in the Independence and Monmouth area. It provides nutritious food for hundreds of households each month, and is working to meet the increased demand for food assistance brought by inflation and the end of emergency food benefits.
The pantry plays a vital role in helping families like Mychal's make ends meet. He and his wife are raising six adopted kids, ages 6 to 18. Because of the children's unique needs, Mychal home- schools them while his wife works full time.
Feeding eight people on a single income is difficult, especially as prices remain high, so the family relies on Ella Curran to supplement their $1,000 monthly grocery budget.
"When COVID started we got hit pretty hard by some different things, then we found out about [Ella Curran] and have been utilizing them on and off," Mychal says.
The family had never visited a pantry before they first entered Ella Curran a few years ago. When they did, they found a warm environment with friendly volunteers who welcomed them.
"It's always hard when you have to ask for help," Mychal says. "But they didn't make it an awkward experience at all, they were very positive. What really shined through for me is that they embraced the children. We're a big crew and we're loud, and they just embraced us."
The experience was a positive one, Mychal says. It showed the children that there's no stigma in seeking assistance and that kind people are there to help. It also showed them that they can make smart food decisions, a subject that's especially important to them.
"All our kids are fresh fruit and vegetable eaters," he says. "They all came from situations where they didn't have great nutrition, and we've really made it a focus of our parenting to educate them and help them understand the nutritional requirements of their bodies."
Some family members have issues with gluten, food dyes, or sugars. One of the children lived on mostly packaged snack cakes before joining the family. That's why Mychal and his wife are grateful to supplement the fruits and vegetables they grow at home with the fresh produce offered at Ella Curran. And because they have gotten to know the family and their dietary needs, pantry volunteers often set aside gluten-free items and other foods that suit those needs.
During each pantry visit, the children take turns selecting which items the family will take home that day. In doing so, they're gaining agency over their diets, learning to plan for menus, and becoming less picky eaters. By allowing their kids to play active roles in shopping and meal preparation, Mychal and his wife are instilling healthy eating habits that will serve the children for years to come.
"It's important to us that they understand the nutritional needs of their body, and when they leave our home that they know how to care for themselves properly," Mychal says. "Even at 6 or 8 [years old], the kids know what their bodies need to live, and they're learning to cook their meals."
The family visits Ella Curran about once a month, and the groceries they gather at the pantry comprise about 15% of what they consume in a month. Although it's not their main food source, it provides an invaluable boost to their food budget. Perhaps more importantly, it builds a sense of community.
Mychal recalls meeting an elderly woman there who said she was living on a can of tuna a day before coming to the food bank. Many of Ella Curran's guests are seniors living on fixed incomes who are able to have complete, nutritious meals thanks to the pantry.
"For our family it gets us through, it carries us through to the next month and to the next paycheck. It also builds great community, and that's so important at this time when people are being isolated," Mychal says. "For our community, it's a huge blessing."