Your support means nobody has to go hungry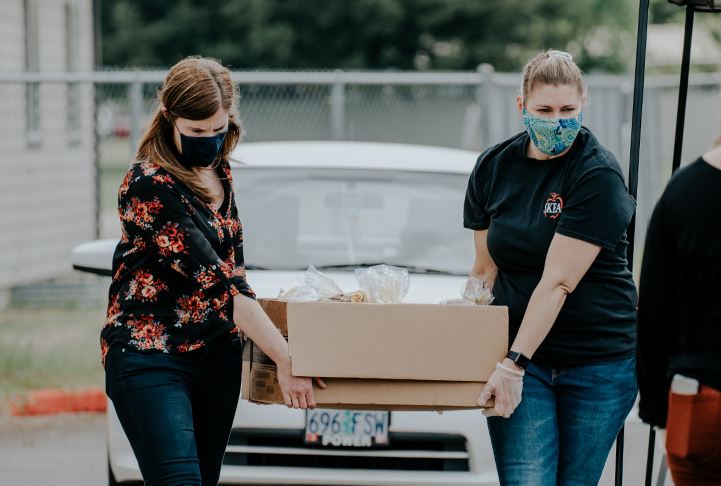 When the COVID-19 pandemic struck last year, its impact on hunger in Marion and Polk counties was immediate and profound.
In 2019 and at the beginning of 2020, Marion Polk Food Share distributed about 700,000 pounds of food per month. When the pandemic arrived in March 2020, a drastic need for food arrived with it as more people began visiting local pantries.
Demand continued to increase every month, and by the summer, with the pandemic in full effect and many community members enduring unemployment and wage loss, the Food Share distributed as much as 1.6 million pounds of food per month – that's over 40,000 meals every day.
Now, over a year after the pandemic began, many of our neighbors continue to suffer from the economic fallout. Many families and seniors are living on the margins and struggling to put food on the table.
An outpouring of support from individuals, businesses and foundations has helped the Food Share continue to respond to demand and make sure that everybody in our community has enough to eat.
AT&T, the Campbell Soup Foundation, Dutch Bros Foundation, The Ford Family Foundation, Nourishing Neighbors Safeway and Albertsons Foundation, Oregon Community Recovery Fund at Oregon Community Foundation, PGE Foundation, Pioneer Trust Bank Foundation, Ralph Hull Foundation and community members like you have all committed to helping make sure those facing food insecurity as a result of COVID-19 have access to healthy, nutritious meals.
This generosity has helped make it possible for the Food Share respond to a tremendous increase in demand, ensuring that nobody has to go hungry in our community.