Doing the greatest good for hungry neighbors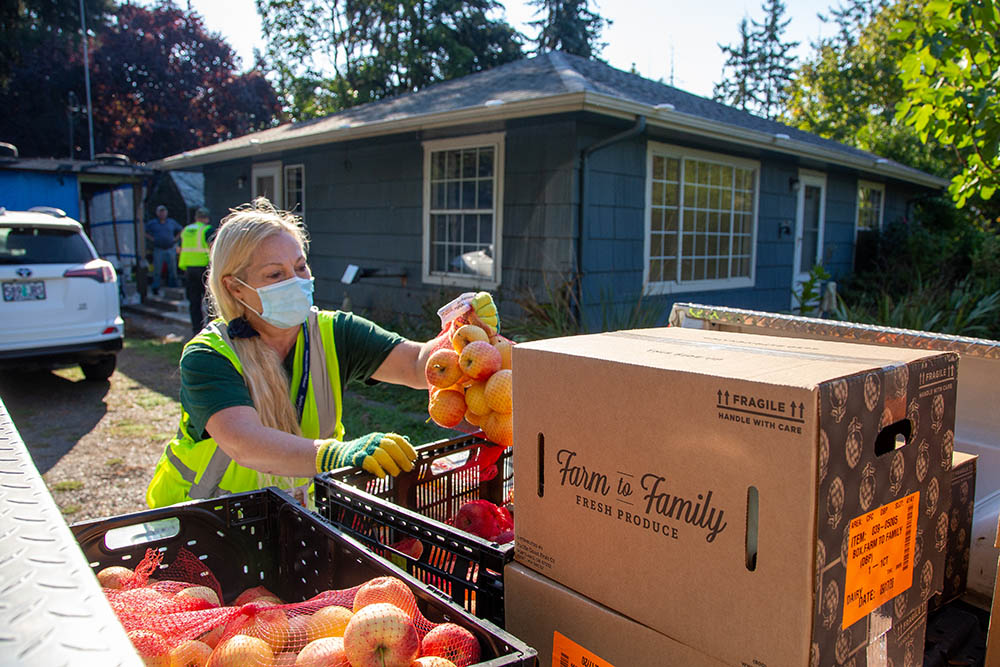 Early on a Wednesday morning, a group of civilians trained in disaster relief assemble at a Woodburn fire station to resume an ongoing volunteer mission. After a quick briefing, the safety gear-clad volunteers team up in pairs and take walkie-talkies, clipboards and dispatch sheets before heading out to complete the day's task: delivering food boxes to hungry families.
Shortly after the start of the COVID-19 pandemic, citizen members of the Woodburn Fire District's Community Emergency Response Team (CERT) began utilizing their training and resources to distribute food to residents of northern Marion County. To date, volunteers have delivered about 3,000 boxes containing about 75,000 pounds of food from Woodburn's AWARE Food Bank.
The delivery program was conceived when area community, civic and religious leaders gathered to discuss how best to support people in need through the pandemic. Many people were out of work and food insecurity was on the rise, and Woodburn's AWARE Food Bank needed help meeting demand due to COVID-related limitations on volunteers and visitors. Utilizing CERT team members, who are trained to help public agencies in the wake of disasters, was a way to employ community resources to safely and efficiently help those who needed it most.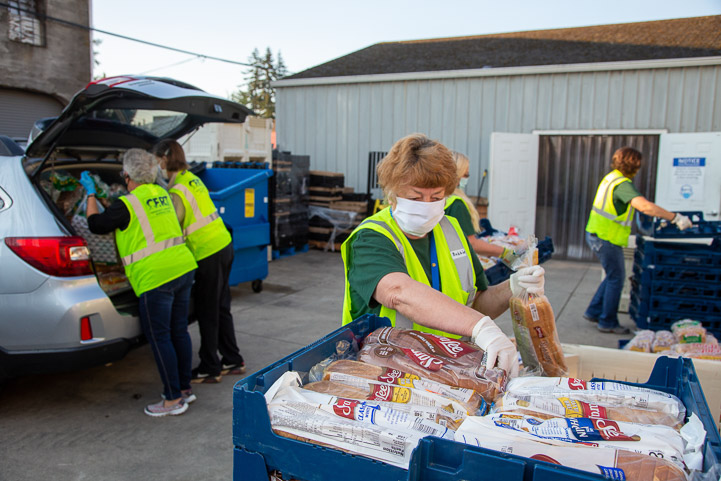 CERT volunteers assemble food boxes at AWARE Food Bank on Tuesdays, then deliver them the following morning to people throughout the Woodburn Fire District's 75-square-mile service area. Each 25-pound box contains a variety of healthy foods, including bread, produce, and non-perishable staples. Some deliveries have also included fresh items from the federal Farmers to Families Food Box Program.
Deliveries continued even as volunteers dispatched for relief work in the wake of September's wildfires. Though the CERT team was sometimes spread thin providing aid in multiple areas, the program's approximately 50 active volunteers stepped up to make sure deliveries continued without interruption.
The team's work is in keeping with the motto of the national CERT program, which exists in communities throughout the country: "Do the Greatest Good for the Greatest Number of People."
After 27 consecutive weeks of home deliveries, the program shifted to a biweekly model on Oct. 28. Food boxes are still available every Wednesday, and on weeks when they're not delivering boxes, CERT volunteers are distributing them at AWARE Food Bank for drive-through pick-up.
The program benefits families in need while providing volunteers with on-the-ground experience, and the CERT program has become more efficient and effective as a result. According to Uli, the Woodburn Fire District's CERT coordinator, its volunteers are now better prepared to respond to other emergencies.
"For us this has been a learning tool," he said, noting improvements in radio communications, route planning and streamlining paperwork. "When this whole [COVID] thing blows over, our ability to have an organizational structure that functions efficiently means all this training will have paid off."
The food box deliveries would not be possible without the commitment of the CERT team and the valuable partnerships between AWARE Food Bank, the Woodburn Fire District, the city of Woodburn, Woodburn School District, and Woodburn Foursquare Church. Generous support also comes from community members like you, whose donations of time, food and funding help ensure that all of our neighbors have access to healthy food.