Helping a community on the road to recovery
When James arrived at the Mill City/Gates Community Assistance Center last Tuesday morning, he was the first visitor to the pantry since wildfires raged through Santiam Canyon and forced its closure two weeks prior.
He arrived with a donation of homegrown tomatoes and zucchini while picking up food to help restock the shelves of his house, which fortunately was still standing when he returned from evacuation.
"The house survived, but the food didn't," James said.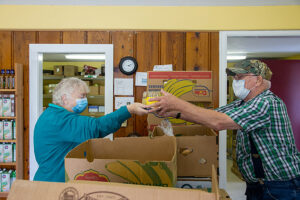 As a volunteer prepared to load boxes of food into the back of his SUV, James cleared space by re-stacking the photo albums and boxes of personal items that have remained packed in the vehicle since he and his wife fled the fires two weeks prior.
"We're still ready to go if we have to," he remarked.
Marion Polk Food Share is working closely with our partner agencies and pantries in Santiam Canyon, including the Mill City/Gates Community Assistance Center, to make sure they have the necessary support to continue serving people like James.
Pantry volunteer and board secretary Susann anticipates that demand for food will soon be higher than ever as displaced canyon residents begin to return, homes are gradually rebuilt and new kitchens need restocking. Keeping the pantry open and ensuring that food is available to people in need is vital to the community's recovery, said Susanne.
"I don't ever want people to feel like we're not here if they need us," she said.