How you're helping Latinx and immigrant neighbors
The COVID-19 pandemic has dramatically worsened America's hunger crisis. Widespread job loss and declines in income mean millions more Americans are facing food insecurity, and those who are more likely to experience poverty are being impacted the most.
According to a September 2020 report, the problem is worst nationally among Black and Latino communities, those who do not have a college education, and among children. Approximately 20 percent of Black and Latinx adults surveyed last year reported not having enough to eat[i].
A local organization that focuses on the Latinx and immigrant populations is working to respond to increased demand for food in Salem and surrounding communities. Since 1988, Mano-a-Mano has provided individuals and families with programs including resource navigation, community health and food assistance.
The organization has hired two additional staff members dedicated to helping operate the food pantries at its two locations in Salem. Other staff members whose main roles are administrative or in other client services are pitching in to make sure the food pantry responsibilities are being met.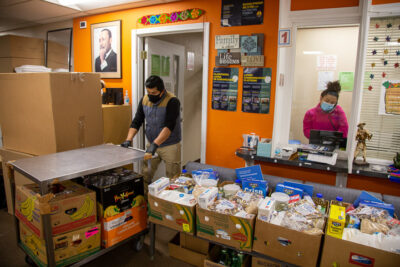 "It's been a lot of work, but it feels good that we have been available since the pandemic started," says Ana, a Mano-a-Mano resource navigator and certified community health worker. "Even as the weeks pass, we still get folks that are visiting us for the first time."
Many of those first-time clients are visiting as a result of an extensive community outreach effort by Mano-a-Mano. The organization has worked to draw in those that feel stigmatized in seeking assistance, or were wary of doing so due to now-vacated changes in the federal charge rule that penalized green card applicants for accepting public benefits.
"A lot of folks are having to seek [food] assistance for the very first time in their lives," says Ana. "There is a lot of hesitation to ask for help, and people will find [other] ways – borrow money, get a second or third job, or skip meals so kids have something to eat."
Once clients arrive for the first time and see that Mano-a-Mano can provide their families with adequate food, and food that they're familiar with and want to eat, they recommend their neighbors, friends and family members, Ana said. Last October, the organization served over 3,200 families.
"It takes a lot of trust, and it takes time to build that trust, but we're here to do that work," she says. "We're ready to help people and we really want to be able to help right now."
Your support makes it possible for partner agencies and pantries like Mano-a-Mano to continue serving hungry neighbors through the pandemic.
Doing the greatest good for hungry neighbors
[i] Schanzenbach, Diane. "Not Enough to Eat: COVID-19 Deepens America's Hunger Crisis," Food Resource & Action Center, September 2020.