Partnership gets produce to those in need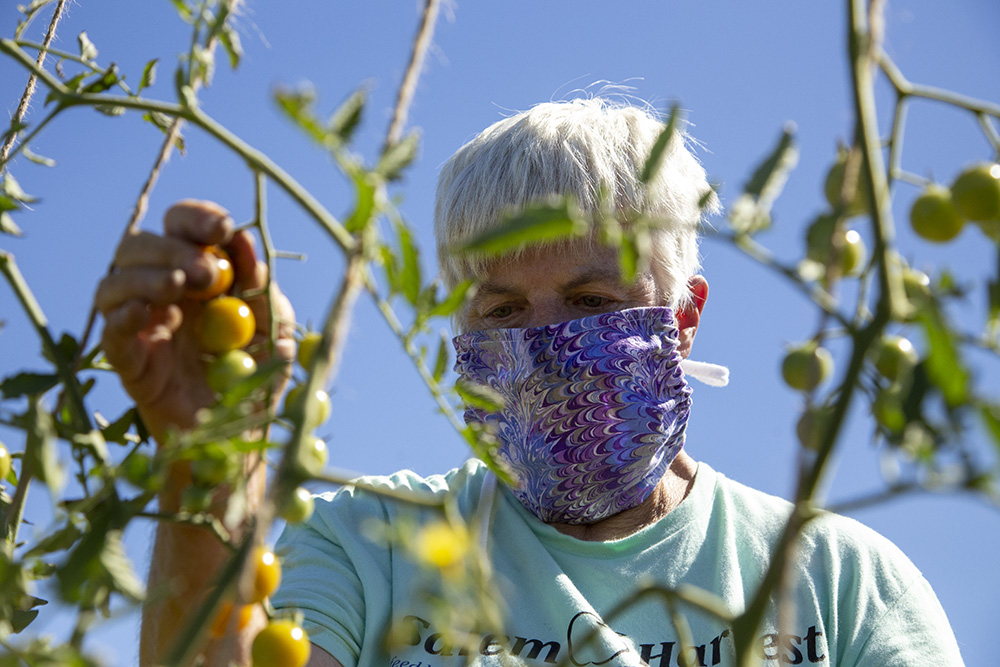 On an early September afternoon at Marion Polk Food Share's Youth Farm in northeast Salem, Vicki makes her way along rows of cherry tomato plants, meticulously picking ripe fruit from the vine and placing it in a cardboard box.
Vicki, a retired professor, is part of a 12-person crew of volunteers harvesting produce for local nonprofit Salem Harvest. Some of what she and her fellow volunteers pick will come home with them. The rest will be donated to the Food Share and distributed to local food pantries to help provide people in need with fresh, local produce.
Vicki – who has participated in over 100 picks for Salem Harvest – enthusiastically explains the benefits of the organization, which assembles volunteers to harvest food that would otherwise go to waste. A portion of what is picked goes home with volunteers, and the rest is donated to organizations including Marion Polk Food Share.
"It's a win-win-win. There is no loser," Vicki says. "There aren't many things where you can say that, you know?"
Farmers get their fields cleared of crops they can't sell without having to pay for the labor to do so. Volunteer pickers, many of whom are individuals and families in need, get to keep some of the produce they harvest while the rest gets distributed to local pantries via partners like the Food Share.
Salem Harvest was formed in 2010 by a group of neighbors who organized to pick backyard fruit trees and prevent the produce from going to waste. In its first year, the organization expanded to include harvesting produce from local farms. Volunteers now harvest about 400,000 pounds of food per year, much of which is circulated to local pantries through a partnership with Marion Polk Food Share.
According to Elise, Salem Harvest's executive director, partnering with the Food Share allows the organization to focus on recovering produce without having to worry about distribution. Many similar harvesting groups that she knows don't have the benefit of such a relationship, Elise said.
"If we had to distribute all that food, it would take so much time and energy out of what we do," Elise says. "It's a great partnership in what we do together."
The amount of produce that Salem Harvest "rescues" has a huge impact on the pantries served by the Food Share. In addition, the Food Share has created programs to support the abundance of produce coming from Salem Harvest. One such program, Project Harvest, provides fresh produce to low-income families via direct distributions at locations including schools, Section 8 housing complexes, and health centers.
It's a natural association between two organizations whose missions converge on a shared goal: providing fresh, healthy food to hungry neighbors in need.
"We just team up and try to feed as many hungry families as we can," Elise says. "That's just what we're all about."